I do not ordinarily do anything out of the ordinary to keep my plants from succumbing to freezes – I prefer to "experiment" and observe which ones make it through light and hard freezes and which do not.
Prior to the first hard freeze, in early December, I had harvested most of my red mustard, green mustard, and broccoli raab.  Good thing – they did not survive the hard freeze. Here's a look at my mustard after the freeze.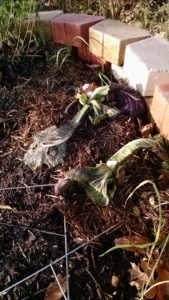 Only the chard managed to come back (but then, chard is VERY resilient). Also weathering the freeze was the sorrel, as well as my radiccio.  Of course, the kale made it through (although I'd mulched it just in case), and carrots.